Important update for PartyPoker users
PartyPoker have not provided us with any information on their changes, but as far as we can tell:
Hand histories are no longer provided by PartyPoker. This means neither our hand tracking nor our

HUD

will work with PartyPoker.com
For people who use a regional version of PartyPoker, such as PartyPoker.fr, our

HUD

and hand tracking are still fully working.
We recommend PartyPoker users switch to 888poker. 888poker is fully supported by Poker Copilot.
This section shows you how to configure PartyPoker. All other PartyPoker skins, such as bwin have the same configuration procedure.
Make sure PartyPoker is running in English
In PartyPoker, on the left-hand list of options, select Preferences
Select Basic Settings
Set Language to English
Use local time
In PartyPoker, locate the time on the bottom-right hand corner of the main lobby.
Click on the time and select "Switch to local time".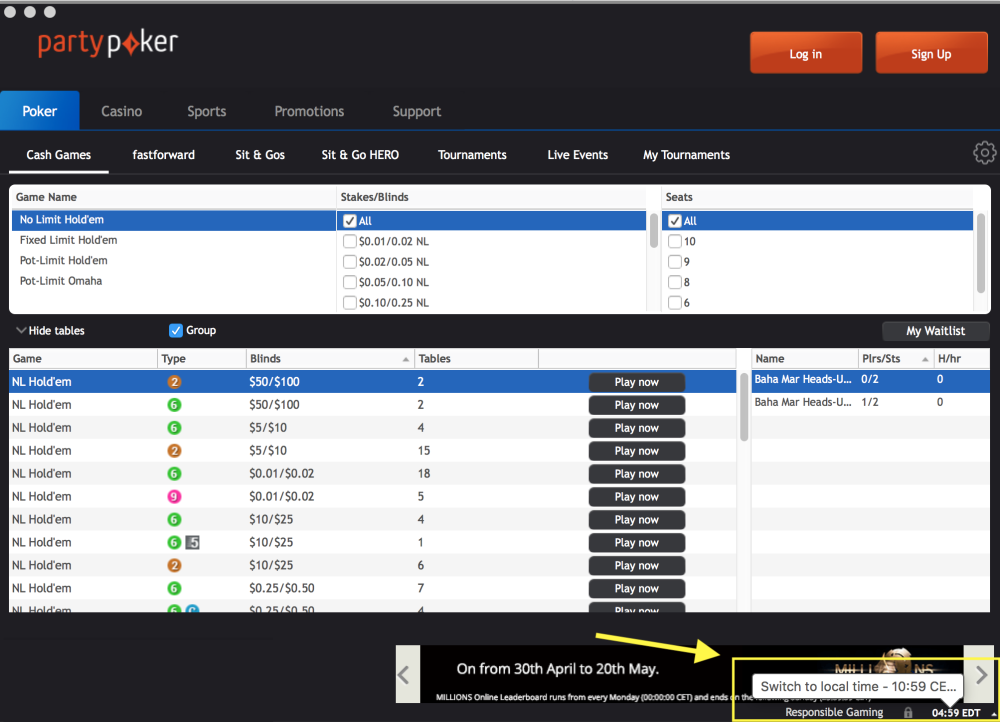 Enable hand history
In PartyPoker, on the left-hand list of options, select Preferences
Select Advanced options
Check the checkbox labelled Store Hand History logs
Set Store last: to 365 days
Click on Save
Restart PartyPoker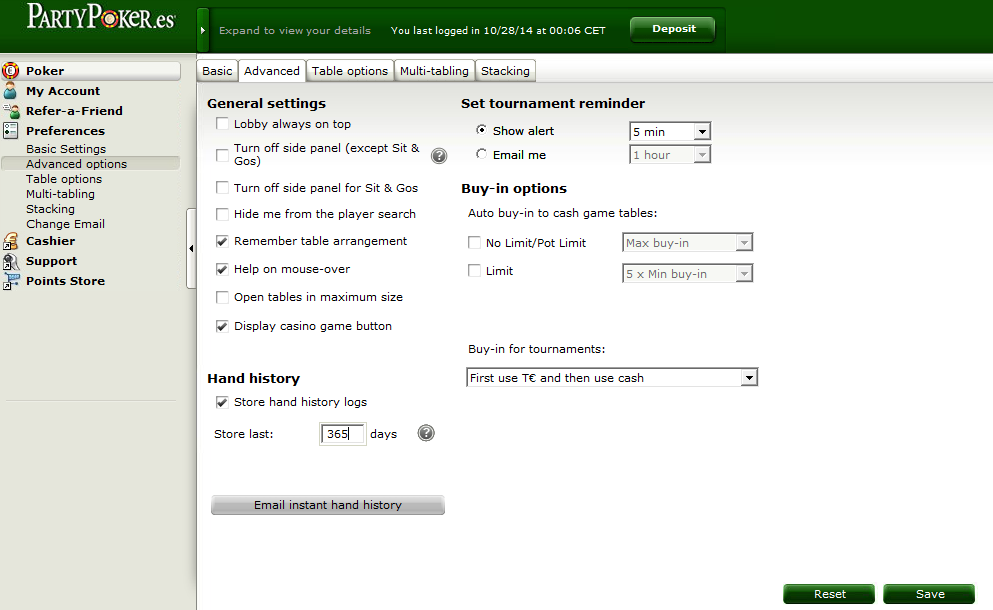 Set preferred seat in Poker Copilot (Windows)
On Windows, Poker Copilot can not automatically read your PartyPoker settings.
If you have set preferred a seat in PartyPoker, you'll need to manually tell Poker Copilot what those settings are.
Do this in Tools -> Preferences -> Poker Rooms screen. Ensure that your preferred seat matches in both Poker Copilot and PartyPoker for each table size.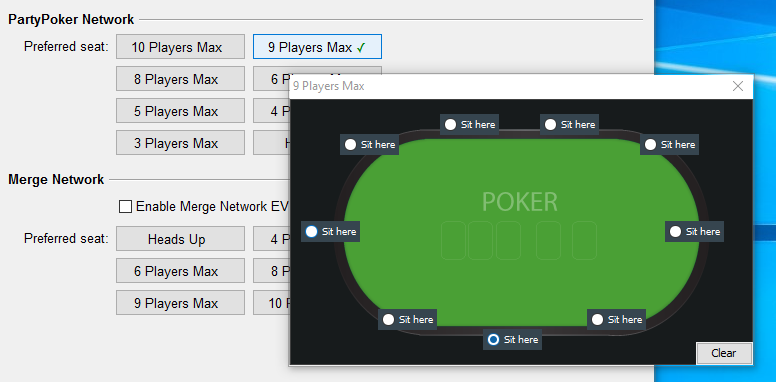 Set preferred seat in Poker Copilot (Mac)
Select "partypoker" from the PartyPoker menu bar
Select "Preferences"
In the window that options, click on "Table"
Make sure "Use preferred seating" is enabled
For each table size, from 10 players down to 2 players, set a preferred seat
Restart PartyPoker and Poker Copilot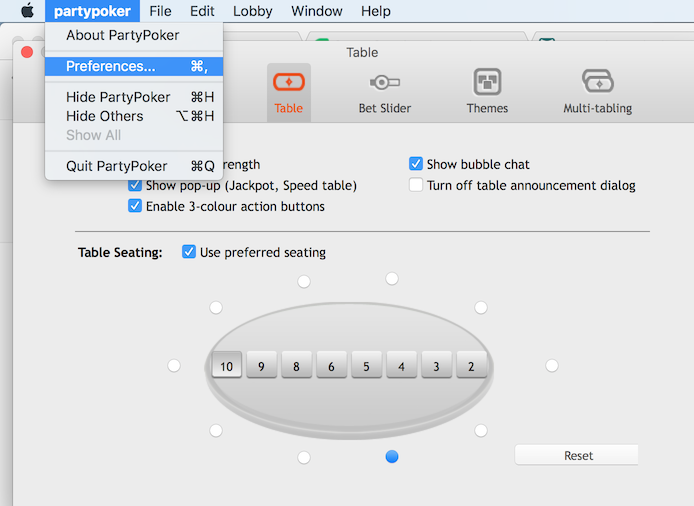 Notes and Limitations
Poker Copilot doesn't work with play money hands on PartyPoker. That's because PartyPoker doesn't save your hand history files for play money.
No

HUD

for cash games.
Tournament Bankroll and results are not available.
FastForward games are not supported.
Why no
HUD

on PartyPoker Cash Games?

As of October 5th, 2016, PartyPoker makes cash game hand history files anonymized. Here's what that means for you:
Anonymized PartyPoker cash game hand history files are imported.
You can view your own PartyPoker stats in our charts and tables.
You can replay PartyPoker hands on our replayer
The

HUD

will not show for you or your opponents
These changes only apply to cash games. PartyPoker tournament hand history files still identify all players as before.
Why no tournament results or bankroll for PartyPoker tournaments?
PartyPoker does not make your tournament results available on your computer in a form Poker Copilot can read. We've experimented with trying to deduce this information from hand history files. However our findings showed that this information was not reliable, consistent, or always available. Therefore PartyPoker tournaments will be missing your winnings and your ranking. Your bankroll will show all PartyPoker tournaments as a net profit or loss of zero.
You can manually add the missing tournament results for PartyPoker, as shown here.
Why no
HUD

on PartyPoker Sit and Go Jackpot tournaments?

A recent PartyPoker update removed some important information from the window titles of Sit and Go Jackpot tables. We need this information to be able to match the PartyPoker window to the corresponding hand histories.

We're hoping that PartyPoker undoes this change in the near future. Until then, we are actively looking for work-arounds to solve this problem.