Improve your poker game with our Winamax HUD and tracker
Poker Copilot shows you statistics on Winamax players directly on the poker table. Our Winamax HUD reveals which players should be respected, and which players can be exploited. Poker Copilot works fully in French, English, and German.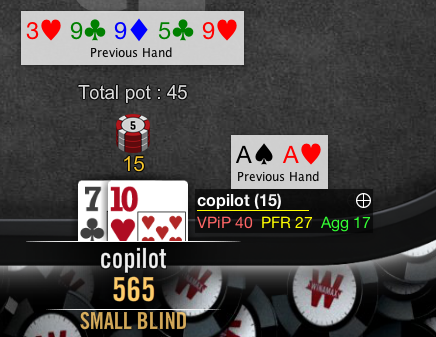 Many of your opponents use a poker HUD. You should too.
Here's why you should use Poker Copilot as your Winamax HUD:
Poker Copilot has worked with Winamax since 2009.
The Winamax team asked us to make Poker Copilot work with Winamax Poker and we obliged.
Poker Copilot can work with Winamax in English, French, or German. Our support team can help in all three languages, too.
You can buy Poker Copilot in the Winamax online boutique using VIP miles.
Poker Copilot supports scheduled tournaments, ring games, "Sit & Go" tournaments, and "Expresso" tournaments.
Poker Copilot supports Winamax "Mix Max" tournaments, where the table size changes as you play.
All features work with Hold'em and Pot Limit Omaha at no extra cost
Unlike our competitors, Poker Copilot doesn't require you to install PostgreSQL, a separate database engine.
Available for Windows and macOS. A single license covers both platforms.
Poker Copilot's HUD is configured by default with a simple, clear, set of player statistics that show you the most important information you need on the table.
Poker Copilot tracks more than 60 statistics for each player, helping you build a precise image of the player.
Poker Copilot is a poker HUD, that displays information about your opponents directly on the poker table.
Poker Copilot is a hand tracker, that helps you track your bankroll and playing history.
Poker Copilot is a hand replayer, that allows you to replay and review past hands.
Poker Copilot is a leak detector, that helps you find the places where you are leaking money due to consistent problems in your playing style.
Poker Copilot is updated every two weeks with new features and improvements.