The Best PokerStars HUD in 2022
Poker Copilot's HUD overlays your PokerStars table with live info on each player. See which players are sharks, and need to be treated with respect. See which players are fish, and can be exploited.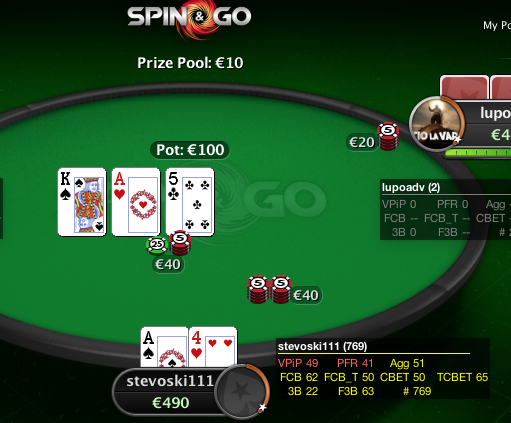 Use Poker Copilot's on-table HUD statistics to work out whether your opponent is tight or loose, passive or aggressive.
Here's why you should use Poker Copilot as your PokerStars HUD:
Poker Copilot has worked with PokerStars since 2008. We're on their list of officially approved software.
Poker Copilot supports scheduled tournaments, ring games, "Sit & Go" tournaments, "Spin & Go" tournaments, and Zoom Poker (Zoom for Mac only).
Thousands of your opponents are already using Poker Copilot to give them an edge on PokerStars.
All features work with Hold'em and Pot Limit Omaha at no extra cost
Powerful leak detectors included for free help you determine the surprising places where you are losing money on the poker tables
Your opponents' playing styles are shown directly in our HUD, on the poker table, in floating panels above each player.
Available for Windows and macOS. A single license covers both platforms.
Compared to our competitors, our software is self-contained. No need to install PostgreSQL or to pay to unlock extra features. Pay once, get it all.
Track your bankroll for cash games and tournaments, either separately, or in one combined chart.
Poker Copilot is fast. Really fast. Your poker hands are added to Poker Copilot at up to 10 times the speed of other poker HUD software.
Poker Copilot is configured perfectly by default to show you the most important information you need on the table.
More than 100 different statistics for each player give you a precise view of how your opponents play.
Poker Copilot works with all country-specific editions of PokerStars, including PokerStarsEU (many European Union countries), PokerStarsFR (France), PokerStarsES (Spain), PokerStarsBE (Belgium), PokerStarsDK (Denmark), PokerStarsBG (Bulgaria), PokerStarsIT (Italy), PokerStarsUK (United Kingdom), PokerStarsEE (Estonia) and even PokerStarsDESH (Schleswig-Holstein, Germany) and PokerStarsNJ (New Jersey, USA).
"Poker Copilot was like adding a huge piece to the jigsaw puzzle of my game. The results have been amazing."