Poker HUD for Mac: Poker Copilot or Poker Tracker?
Top reasons why you should choose Poker Copilot when you want a HUD on the Mac for online poker.
Poker Copilot is designed for Mac
Poker Tracker is a Windows product. After many years, they brought it to Mac as well. Because of its origin as a Windows application, it doesn't _feel_ like a typical Mac application.
To quote one of our customers, Poker Copilot "is super simple, super easy to use, no hassles – like a lot of software for the Mac."
We are dedicated Mac enthusiasts. We want our software to work the way Mac software works. The same menu layout, preferences in the default place, the same keyboard shortcuts that other Mac software uses.
We model many of our features on Mac software you use everyday, such as iTunes and Finder, so that you won't have to learn an alien system. Instead you can focus on playing poker with a HUD.
Poker Copilot is easy to install and easy to remove
On Windows, you typically need to run an installation program to install software. Often you even need to restart your computer as part of the installation. To remove it, you need to run an uninstallation program. That's not how most Mac software works, and it is not how Poker Copilot works. Don't want it anymore? Simply drag the application to the trash. We hope you won't do this, but we believe in doing things the Mac way, and we believe in making our software as easy as possible to use. Poker Tracker requires you to enter your admin password and to restart the computer. This simply isn't the Mac way.
Poker Copilot doesn't require you to install a database server
Poker Tracker requires you to install a database server called PostgresSQL. PostgresSQL is a great product, but as an online poker player you shouldn't need to separately install and set up a complicated database server.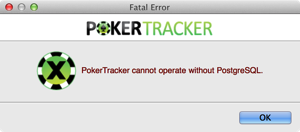 Do you use iTunes? Did you know that behind your music collection, iTunes has a massive database system to manage your music? Do you use OS X's Mail program? It also has a massive database system behind the scenes, allowing you to quickly store, sort, and retrieve messages .
Poker Copilot works on the same principle. We use a high-performance embedded database system but we hide it from you. You don't need to install a database separately. You don't need to learn how to manage a database server. You don't need to give our product admin status, and you don't have to give admin status to any other product that Poker Copilot relies on.
Poker Copilot's reliable database is managed by Poker Copilot, not by you. Instead you can focus on playing poker with a HUD.
Poker Copilot has been on macOS for much longer
PokerTracker released their first Mac beta product in 2010. Poker Copilot has been exclusively for Mac since 2008. We've had more time to learn the finer points of helping Mac poker players improve their game. We're usually the first to accommodate changes in new versions of Mac's OS X operating system.

For us, Mac is not an after-thought or a second line of business. Poker on the Mac is what we do. And have been doing, since 2008.
Poker Copilot offers customer support in your language
Playing winning poker is hard enough in your own language. Trying to understand your poker HUD in English can make that even harder if English is not your mother tongue. Poker Copilot is completely translated into several languages. But we go one step further. We can answer customer support in French, Spanish, Italian, German, and Russian. We can even respond in Catalan. Got a problem? Ask our support team in your language, and we'll answer in your language.
We'll let our customers have the last word:
"I downloaded the PokerTracker trial and gave it a shot. And I didn't just give it a little shot. I played 50,0000+ hands total in the last year and I played the last 5,000 using PT3 exclusively. And I prefer Poker Copilot…Best product wins.

"As a Mac user, Poker Copilot wins for me. There are valuable things I could get out of PokerTracker that I can't get out of Poker Copilot. But Poker Copilot is constantly advancing. And your product is so perfect for the Mac market. Figure out what 95% of the customers want and go with that rather than trying to please the other 5% too and making an overly complicated product for everybody."
"Poker Copilot is the best HUD for Mac in my opinion. I tried to use PokerTracker 4 but I had serious database issues and glitches with windows blacking out. Poker Copilot had been flawless and very easy to use."