Poker HUD for America's Cardroom
Many players on ACR use a poker head-up display, or HUD, to help improve their play. A HUD gives you a historical analysis of a player directly on the poker table, helping you in your decisions.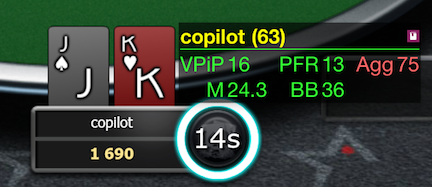 At the time of writing, America's Cardroom (ACR) is the most popular online poker room for players in the US. Over the last year they've been aggressively increasing their market share. In October 2015 ACR added a Mac client, further increasing their potential player base.
Here's why Poker Copilot is an ideal poker HUD for America's Cardroom:
See instant analysis of your opponents' playing styles directly on the poker table. After each hand, the info in the HUD is updated to show you more precise info.
Many of your opponents are already using Poker Copilot on America's cardroom.
Our HUD is fully customisable to suit your playing style.
Poker Copilot supports ACR's "Jackpot Poker" tables, "On Demand" tournaments, cash games, scheduled tournaments, and Sit & Go tournaments..
For one price, you get all Poker Copilot features, at all stake levels, for Hold'em and Pot Limit Omaha.
Our leak detectors are included for free. They'll help you find where you are leaving money on the table. Money that should be yours.
Available for Windows and Mac OS X. A single license covers both platforms.
Compared to our competitors, our software is self-contained. No need to install PostgreSQL or to pay to unlock extra features. Pay once, get it all.
Track your bankroll for cash games and tournaments, either separately, or in one combined chart.
Poker Copilot is fast. Really fast. Your poker hands are added to Poker Copilot at up to 10 times the speed of other poker HUD software.
Poker Copilot is configured perfectly by default to show you the most important information you need on the table.
More than 100 different statistics for each player give you a precise view of how your opponents play.
Speedy software updates. When ACR updates their poker room software, we have a Poker Copilot update available to support the changes within days.