Improve your poker game. Exploit your opponents. A HUD for 888poker.
Playing on 888poker? Want an edge over your opponents? Join thousands of online poker players who choose Poker Copilot as their 888 HUD. Exploit your opponents, fine-tune your game, make the right decisions at the table.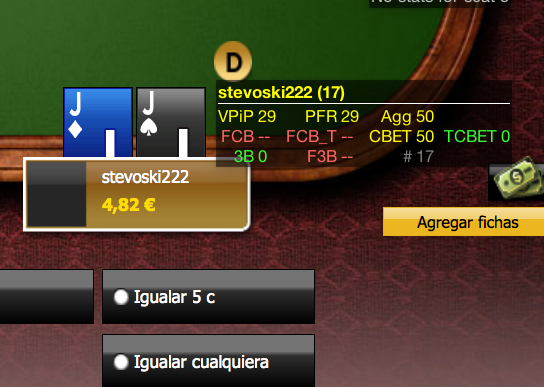 Here's why you should choose Poker Copilot as your online poker HUD and tracking software for 888poker:
Many of your opponents are already using Poker Copilot to give them an edge on 888poker.
See instantly whether your opponent is tight or loose, passive or aggressive, a fish or a shark. Your opponents' playing styles are shown directly in our HUD, on the poker table, in floating panels above each player.
Poker Copilot supports 888's scheduled tournaments, ring games, and "Sit & Go" tournaments.
All features work with Hold'em and Pot Limit Omaha at no extra cost.
Powerful leak detectors included for free help you determine the surprising places where you are losing money on the poker tables.
Works with 888poker on Windows and Mac OS X. A single license covers both platforms.
Compared to our competitors, our software is self-contained. No need to install PostgreSQL or to pay to unlock extra features. Pay once, get it all.
Track your bankroll for cash games and tournaments, either separately, or in one combined chart.
Poker Copilot is fast. Really fast. Your poker hands are added to Poker Copilot at up to 10 times the speed of other poker HUD software.
Poker Copilot is configured perfectly by default to show you the most important information you need on the table.
More than 100 different statistics for each player give you a precise view of how your opponents play.
Poker Copilot is updated every two weeks with improvements and fixes. 888poker changes their software often; Poker Copilot changes too, to make sure your 888poker HUD keeps working reliably and smoothly.
Poker Copilot supports 888poker.com and all country-specific versions, including 888poker.dk (Denmark) and 888poker.es (Spain).
Configuring 888poker for Poker Copilot's HUD
See Poker Copilot's Head-up Display (HUD) in action 888poker. See how to configure 888poker for Poker Copilot, what the HUD looks like, and how to understand it.
"I started using Poker Copilot a few weeks ago after a recommendation, and it paid for itself within hours. It's completely turned my game around. You run a great site and have a great piece of software, and I know a lot of people who use your product and are happy with it."