Poker Copilot: An alternative to Hold'em Manager
Here's what makes Poker Copilot a compelling alternative to Hold'em Manager.
Poker Copilot functions immediately, without any extra database
Hold'em Manager needs a separate product installed on your computer called PostgreSQL. This is a database product that runs next to Hold'em Manager. Poker Copilot doesn't need this. Instead it has its own embedded database that you need never see directly. You get to concentrate on your poker game, instead of keeping a separate database product running, with the necessary backups and maintenance and updates that it requires.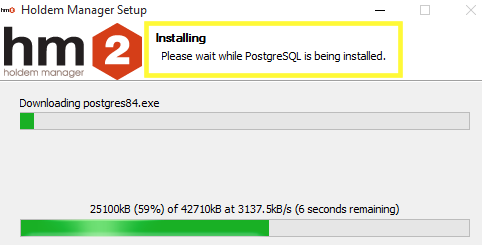 Poker Copilot gives you power with simplicity
Our design principle in Poker Copilot is that we should hide all the complicated configuration options that have nothing to do with playing poker. Poker Copilot has power, but we hide that behind a user interface that makes it easy to find things, easy to track your playing style, and easy to change things to help the way you play. When you are ready to access the full power of Poker Copilot, the advanced options are always just a click or two away.
Poker Copilot has one price for everything
Hold'em Manager has several prices. Want to play on Omaha as well as Hold'em? That increases the price. Want to play above the micro-stakes level? That's a price increase.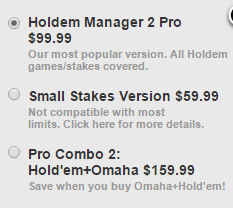 Poker Copilot charges you one price for everything. That price includes all stake levels for cash games and tournaments. It includes all supported poker variants. It includes our leak detectors too, which our an optional extra on Hold'em Manager.
Poker Copilot offers customer support in your language
Hold'em Manager is in English, and only English. Poker Copilot is fully translated into French, Italian, German, Russian, Spanish, and Portuguese. Our team, based in Barcelona, Spain, includes speakers of several languages, and so we can often support you in your mother tongue. Got a problem? Ask our support team in your language, and we'll answer in your language.
Poker Copilot is an established alternative to the Hold'em Manager/Poker Tracker duopoly.
Hold'em Manager is one of the dominant products in poker tracking. In 2014 Hold'em Manager and PokerTracker merged to become one company with two products. Two almost identical products, with the same requirements, the same features, and the same pricing, right down to the last cent.
Poker Copilot 5 is an independent product. Since 2008, Poker Copilot has been the leading Mac poker tracking software. Now, from November 2015, Poker Copilot is also on Windows.