Poker HUD for PartyPoker and bwin Poker
Playing PartyPoker with a HUD gives you stats for each player directly on the poker table.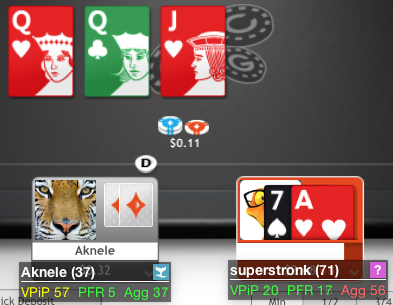 See how often your opponents raise, fold, and call. Track the number of hands they take to the flop. See which hands a player takes to showdown.
PartyPoker has several skins and brands, including bwin, and PMU. Poker Copilot works with all of them, on Mac and Windows.
Here's some of the advantages of using Poker Copilot as your HUD for PartyPoker:
See critical statistics that portray your opponents' playing styles directly on the poker table. As a hand is completed, Poker Copilot instantly updates the info in the HUD so that you get an increasingly more accurate understanding of your opponents' tendencies.
Many PartyPoker players across the world are already using Poker Copilot to analyze you.
Works with all popular PartyPoker skins: PartyPoker.fr, PartyPoker.it, PartyPoker.dk, PartyPoker.es, bwin.be, bwin.es, bwin.fr, bwin.it, PMU, GiocoDigitale, and Premium.
During a hand, you can immediately call up far more detailed info about a player, to help you with the most important decisions. See what a player does preflop, and on the flop, turn and river.
See the hands a player recently took to showdown, so you can decide if they only play premium hands, or play more speculative hands.
Discover whether an opponent has positional awareness.
Poker Copilot supports PartyPoker's cash games, scheduled tournaments, and Sit & Go tournaments.
For one price, you get all Poker Copilot features, at all stake levels, for Hold'em and Pot Limit Omaha. Poker Copilot can be used on all supported poker rooms.
Analyze and improve your poker game with our leak detectors, all included for free.. Designed using advice from top-level players, you'll get to check up your preflop aggression, positional awareness, and blind stealing.
Available for Windows and Mac OS X. A single license covers both platforms.
Poker Copilot is the easiest software to use in the industry. You'll be using it to improve your game within minutes of downloading.
Track your bankroll for cash games and tournaments, either separately, or in one combined chart.
Poker Copilot comes preconfigured with a simple, clear HUD. When you need more info, you can choose more complex options with ease.