Poker HUD for iPoker
Poker Copilot gathers information about your opponents while you play on any iPoker skin, and shows the info directly on the poker table. You could do this manually with pencil and paper, but Poker Copilot makes it easy and error-free. See instantly whether your opponent is a fish, a donkey, or a shark. Find out if your opponents are winning players. Find the leaks in your game and fix them.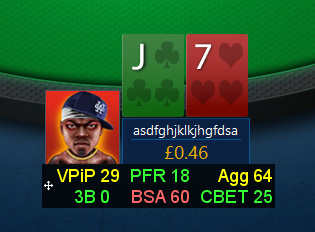 Poker Copilot is a poker tracker, poker HUD, hand replayer and leak detector that works with all popular iPoker skins.
Supported skins include Coral Poker, Ladbrokes, William Hill, Paddy Power, Titan Poker, bet365, and Betfair. If your favourite iPoker skin is not listed, tell us, and we'll add it for you.
Poker Copilot supports cash games and tournaments, Texas Hold'em, and Pot Limit Omaha (PLO).
Why choose Poker Copilot as your iPoker HUD:
We've got the best customer support in the business. Got a problem? We'll walk you through it. Found a bug? We'll fix it in time for our next twice-monthly update.
We've got one price for everything. Pay once and get support for all stake levels, all poker rooms, and all poker variants.
Poker Copilot's Leak Detectors are fast, free, simple, and good. We invented the online poker Leak Detector. Customers tell us that the leak detectors alone makes Poker Copilot worth the money.
Poker Copilot is fast, reliable, and simple to use.
Poker Copilot is configured by default to help you play better on iPoker. But it is customisable so you can adapt for the way you play. Choose from more than 60 poker statistics that show in your HUD as you play.
Poker Copilot is risk-free. Try our full-featured trial version for 30 days. Once you buy Poker Copilot, you have a 30-day no-questions-asked money back guarantee.
Many of your competitors on iPoker are using Poker Copilot.
"Poker Copilot was like adding a huge piece to the jigsaw puzzle of my game. The results have been amazing."